Pólar Hestar ehf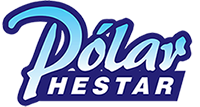 In the North of Iceland, at the longest fjord of the country - Eyjafjördur - lies dreamly Grytubakki, our farmhouse. Since 1985 Grytubakki is the starting point of a variety of long and short riding tours in an extraordinary landscape.
More than 130 horses live with us. Curious young horses, mysterious cities of the Elves, a Viking treasure hidden in the ground, attractive valleys, rivers and a colourful world of wonders are waiting for the guest.

We ride through remote valleys to the North Atlantic and with a herd of freely running horses to Lake Myvatn, the famous lake of the midges.

In the autumn, when the first snow-flakes are announcing winter, our guests may experience a colorful world and the Northern Lights.
The Polar Hestar riding tours are from different length and suitable for experienced and less experienced riders.
Let yourself be enchanted by the fascinating world of Iceland on horseback!
Have a look at our homepage in detail - you will learn about our tours and much more!


Stefán H. Kristjánsson
Framkvæmdastjóri
polarhestar@polarhestar.is