Gistiheimilið Sigtún ehf
Guesthouse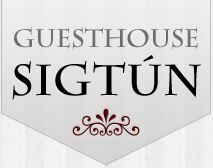 Gistiheimilið Sigtún er ákaflega hlýlegt og fallegt hús. Húsið hefur mikla sál, segja gestir sem á Gistiheimilinu hafa búið. Húsið var byggt um miðbik síðustu aldar.
Herbergin, sem eru 1-5 manna ,nýuppgerð, ákaflega notaleg og fara ekki varhluta af þeirri ljúfu stemmingu sem fylgir þessu góða húsi. Í eldhúsinu fær fólk sér sjálft góðan morgunverð á hverjum morgni milli klukkan 05:00 og 11:00.

Guesthouse Sigtún is an extremely warm and beautiful house. The house has a great soul, say the visitors that have resided in the guesthouse. The house was built in the middle of the last century, and all renovated in 2006. Guesthouse Sigtún is in a very beautiful and quiet street, and short to most services, catering and bars at Husavik, such as down on the Old Belfast, a diner and pub down the harbor, which is central to the whole whale in Husavik Whale, Reðursafnið, Salka, a diner and pub, Húsavík, Skuld, a coffee shop, liquor store, dry cleaning, selection of grocery, gas stations, a bus station for program cars to Akureyri, cruisers, to name a few.
To all these places, it's about 5 to 10 minutes walk from Sigtún, Túngötu 13th.
Among them are, just one km. is a good pool with many different hot tubs and healthy, and three km. (five minutes) are the Katla VIA (golf course), which is nine holes and 70 par.
The rooms, which are 1-3 people are, as previously mentioned, newly renovated, extremely comfortable and enjoy an alluring atmosphere. In the kitchen, people can make themselves a good breakfast every morning between 05:00 and 11:00 o'clock.
Regenerative accommodation in beautiful surroundings and a good breakfast should ensure you a nice and relaxing holiday